Calendar of Events
Get Healthy Workshop
This "hands-on" workshop will tell you what you need to know to get healthy quickly and stay that way! Our doctors teach the three basic principles: What health is and where it comes from, what you need to do to get healthy, and what you need to do to stay healthy. This is an interactive class where patients learn specific stretches and exercises for pain relief, proper lifting, and much more! It is designed for patients that are just beginning their chiropractic care, but the class is open to the public. Be sure to tell others, everyone is welcome. Call us to schedule a date to attend!
Days Office Closed For 2014
May 26th, July 4th, September 1st, November 20th and 21st and December 25th.

Lunch and Learn Talks
Teaching employees how to maximize their energy and minimize stress at work... click here to schedule an event or obtain additional information.


TBA November 2014

Patient Appreciation Day!!

From 9AM - 6PM! We also will see new patients for $25.00! We serve a breakfast buffet as well as a lunch buffet. We have door prizes, coloring contests for the kids, and massage therapists on site giving FREE 5-minute massages! Vendors from around the community will be present. The event is open to the community, and children are welcome! Call us to verify the date, as well as reserve an appointment!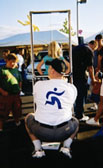 Help Us Organize a Blood Donation Drive.
Call the clinic for details on how you can get involved and support the Puget Sound Blood Center.